07. November 2019 - News
PAX hose management
Correct hose management is very important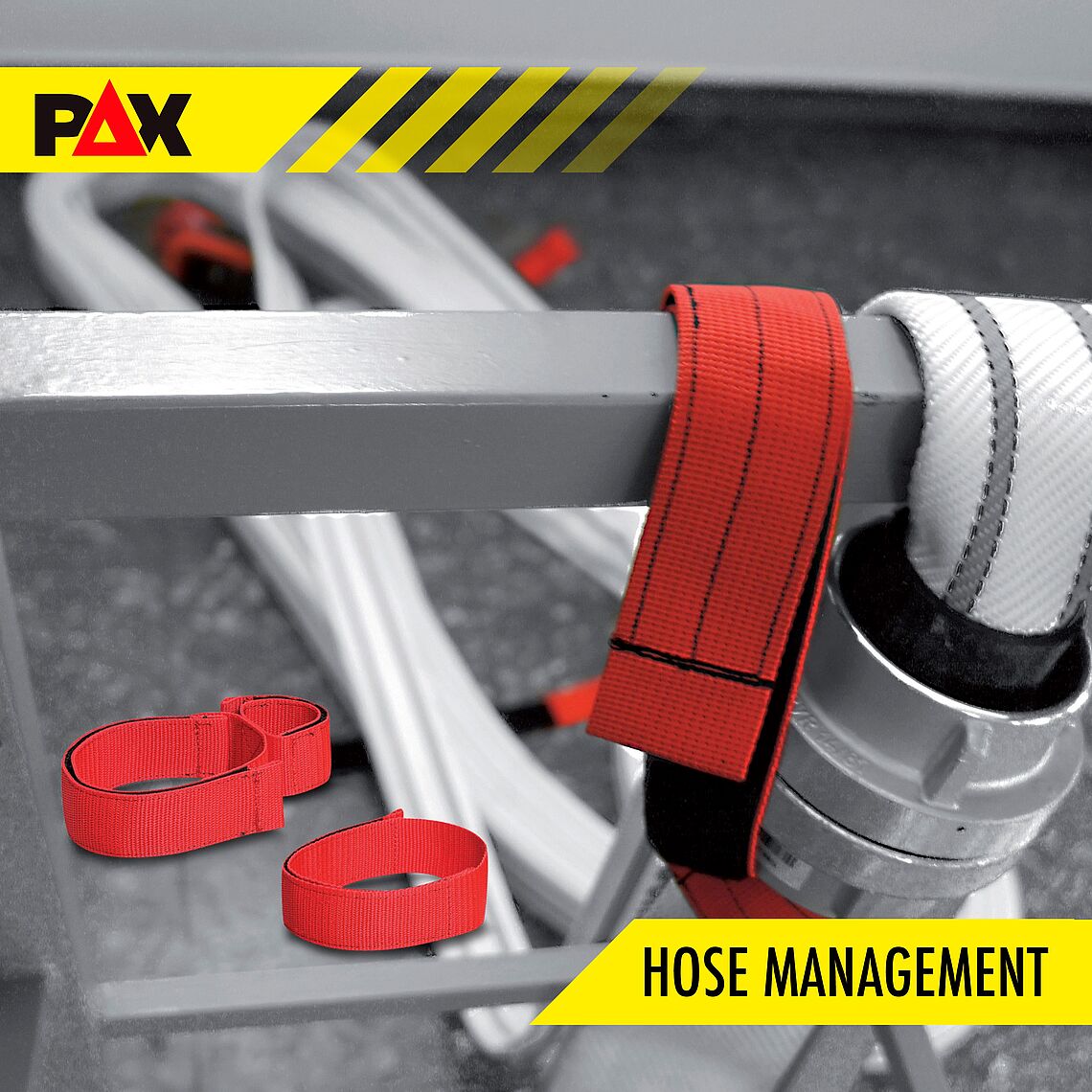 Lay the hoses, couple the couplers, put in the right fittings, and then turn on the water. A firefighting attack by the fire brigade could be described that simply. However, the reason for this is much more obvious, especially when it comes to the hoses. Particularly when proceeding with a hose line into the internal attack, the troops must act tactically and technically correctly. Under all circumstances, they must ensure that they have water on the jet pipe at all times and at all locations in the building. For example, it depends on sufficient hose reserve and correct installation in stairwells.
For over 20 years, the fire brigades in Germany have relied on hose carrier baskets for the right hose management in internal attacks and in recent years have increasingly relied on so-called hose packets consisting of two C-pressure hoses, each 15 meters long. Baskets and packets are often used in combination in multi-storey buildings. The hoses from the baskets are laid by the emergency services up to the fire room in a building. The two hoses are then used to ensure sufficient hose reserves in direct fire fighting. In the case of shorter attack distances, the fire brigades sometimes also use hose packets as an alternative to the carrying baskets. The advantages are obvious: weight savings and improved ergonomics.
We at PAX have also taken care of this whole issue of hose packets and developed practical products:
Holster hose pack FW Hamburg. In this holster you can carry a construction key, a coupling key, a hose sleeve, a preferential travel key and two wooden wedges. The bag is attached directly to the hose couplings with two straps.
Go to product
Rope hose holder FW Hamburg. This makes it very easy to attach the hose to a stair railing or other anchor points in the building.
Go to product
Hose packet set with and without rope hose holder. The PAX hose packet set consists of three webbing straps for fixing the C hoses laid in bays. At the ends of the straps there are pulling aids which are easy to open even when wearing gloves. You can also get this set with a special rope hose holder, integrated in one of the belt straps.
Go to product
How can hose packets be easily packed?
You can easily use in Germany standardized C-pressure hoses for a hose packet. The experts recommend to use two C-42 hoses in 15 or 20 meters length. You place them in narrow bays that should be between 1.50 meters and a maximum of two meters long. You fix the hose packet with two to four straps. It makes sense to connect a jet pipe directly to the hose packet.
We also have a solution for the quick extinguishing of small fires and surface fires: The PAX fast attack bag hose. It accommodates a 30 metre long D-pressure hose. A transition piece C-D can be carried in the outer pocket.